The Databricks Lakehouse Platform is a popular data platform. It is fully based on Apache Spark. In fact, the people who created Apache Spark found the company to offer a commercial data platform. In addition, they heavily promote Delta Lake, a storage format for files that uses versioned Parquet files and a transaction log to provide ACID transactions.
Databricks is a full-featured platform that runs on top of one of the three cloud providers: AWS, GCP, Azure. On Azure, Microsoft is your business partner, so you don't have to sign a separate contract with Databricks. In any case, the cloud provider resources (such as object storage, compute engines, virtual network configuration, access control) are used by the platform. The platform basically runs in compute engines and uses futher compute engines to manage workloads.
Databricks is very popular among Data Scientists. It has an integrated environment, collaborative notebooks, and managed and scalable resources. But is it also a good choice for a general Data Mesh platform? Let's dive into the components that we would use for Data Mesh.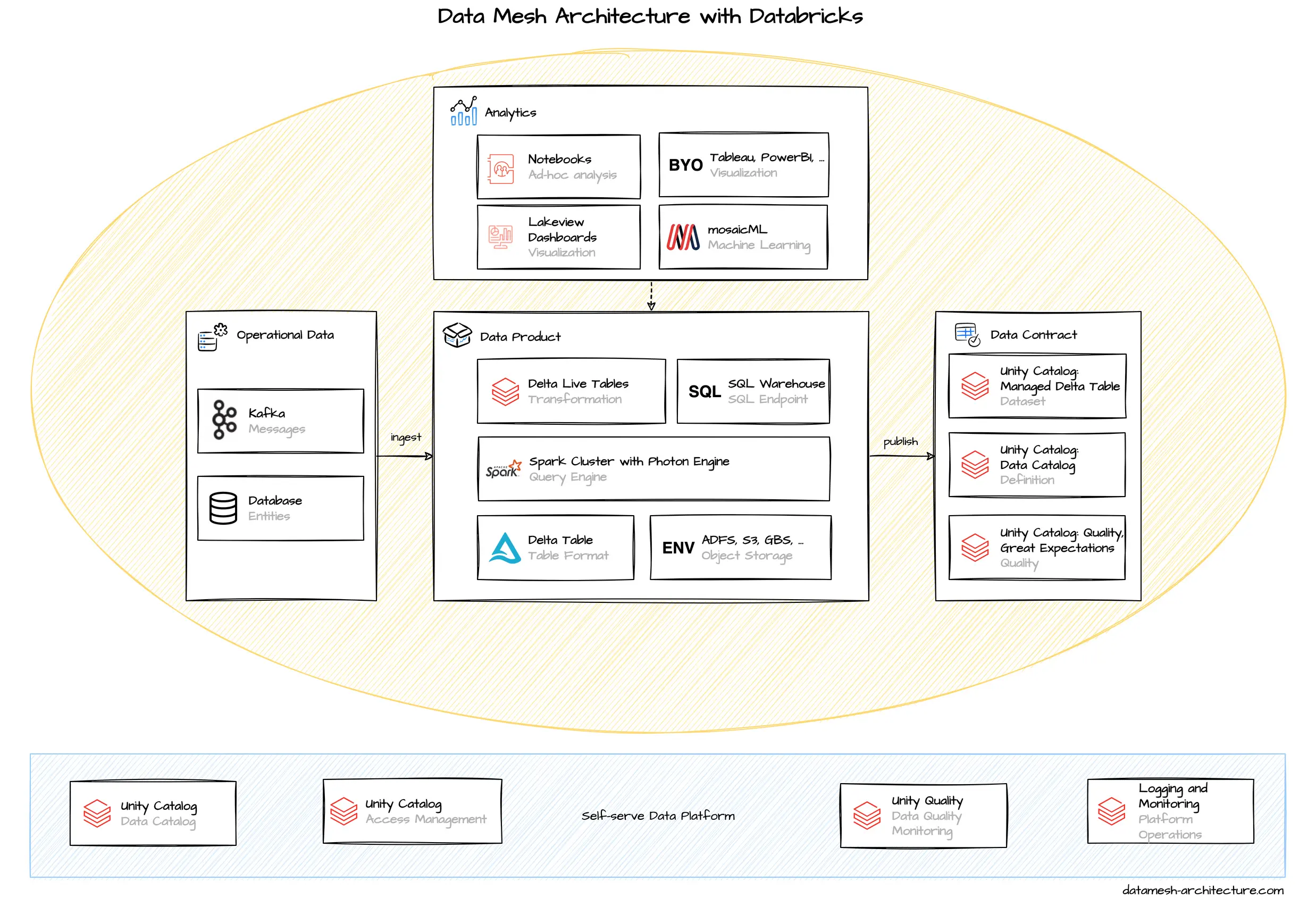 Databricks is probably the most powerful data platform available today, and it clearly can act as a foundation for a data mesh platform. It is optimized for data scientists that work a lot with notebooks, but it also invested in further experiences. As it tightly interacts with the cloud provider for data storage and access management, organization and administration will take a while to master for the data platform team, and it must be set up appropriately from the beginning. Databricks is a great platform for data analysts and machine learning, but the entry barrier is pretty high for occasional users. Domain team's software engineers who use data analytics from time to time and build just a few data products, may need a lot of guidance by an enabling team to work efficiently and to gain a positive developer experience.

References